Graphics AtoZ is a professional car wrap service company. We specialize in van wraps in Houston, TX, and surrounding communities. Our experts specialize in van wrapping for businesses including service providers, delivery companies, or even for product advertisements. Whether you're a plumber, air condition technician, pool service provider, or catering company, a cargo van wrap can be extremely beneficial for your business.
We understand the difficulties of increasing sales, consumer awareness, advertising, and earning trust from potential customers. With a full van wrap, half van wrap, or van decals, small or big businesses can easily reach and acquire new customers. Put your name out on the road while driving around Houston and its surrounding areas, visiting residential customers, or by just being parked in a visible location.

Van Wrap Quick Guide
We offer 3 distinct types of vinyl wraps for your business or fleet.
See the section for an overview of the three types of installation coverage.
Every passenger or cargo van are different sizes. A ford full ford transit van wrap might cost more or less than a full sprinter van wrap. Below, we offer various examples of full, half, or van graphic prices. If you are looking to wrap a vehicle other than a van, you can also visit our car wrap cost page. If your van is different from our example, you can also request a FREE custom wrap quote.
Advertise for your business by adding a full vehicle graphic wrap to your marketing strategy. Not only will wrapping your cargo van increases your sales, it will also improve brand recognition and increase familiarity with your business. For very small companies, it will help legitimize your company and services.
Van Wraps Coverage Options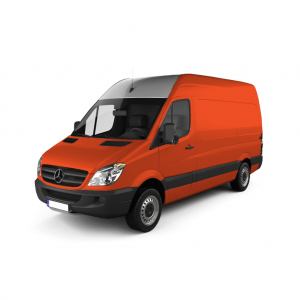 Full Coverage Van Wrap
Complete Wrap Coverage
Full coverage van wrap example pricing includes the body only. Choose your options based on your needs.
Roof
Side & Rear Windows
Bumper
Side Mirrors & Handles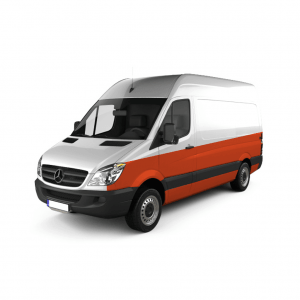 Half Coverage Van Wrap
Half Wrap Pricing Available
Want to cover only half of your van? Not a problem. We price the type of vehicle based on half the square footage.  Partial wrap placement is based on your design.  Additional options are available for; roof, side windows, rear window, bumper, side mirrors, and door handles.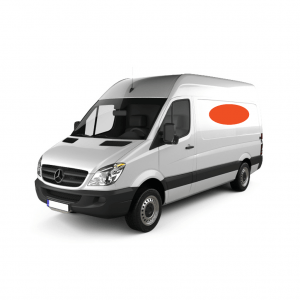 Decal Graphic Van Wrap
Custom Van Decal Option
If your business only needs spot graphic wrap, we got you covered. We offer upfront pricing for common spot graphic sizes. Our prices include installation in the Houston, TX area. Click on the button below to view all van wrap example pricing.
Cargo Van Wraps Price/ Cost
We are happy to introduce upfront van wrap prices! Graphics AtoZ provides exact upfront prices for your specific van at affordable prices.
You will see numerous cargo vans that are in the market. If you don't see your cargo van in our van wraps section, please Contact us. There is a large variety of cargo vans in the market of various sizes and configurations. Nevertheless, you can choose a van similar to yours from our van wraps section, as an example. That will give you a good idea of the van wrap cost.
If you have a cargo van fleet wrap for your business that needs a graphic wrap, let us know. If you wrap two or more vans at the same time, you are eligible for a discount. Rebate discounts will be given if you are wrapping just one van at a time, and decide to wrap another vehicle within 30 days of the first one. Click on the links below to see some examples of van wrap pricing at affordable prices.
Full Graphic Van Wraps Examples
As seen in the previous images, we can wrap any size cargo van. How much does it cost to wrap a van? Well, our 3M vinyl wrap pricing is based on coverage and complexity of installation. Below are two examples of specific vehicles and their pre-quoted prices.
 RAM Promaster 2500 Van Wrap, Mid-Size Van
 Ford Transit Van Wrap, Full-Size Van
Depending on the configuration of your van you can choose from wrapping the roof, side mirrors, handles, grille, and windows. To configure the vehicle wrap option click on the image of each specific vehicle.
How does a van graphic wrap benefit my company?
Benefits from a business-wrapped van.
Enhances brand recognition or consumer awareness.
Increases sales while driving around Houston, TX.
Promotes a professional brand and company image.
Protects your vehicle's original paint.
Great ROI for your marketing dollars.
Wrapping your business vehicle works and helps improve the bottom line. Contact us today for a custom vehicle wrap pricing quote or visit our pre-priced van wrap examples.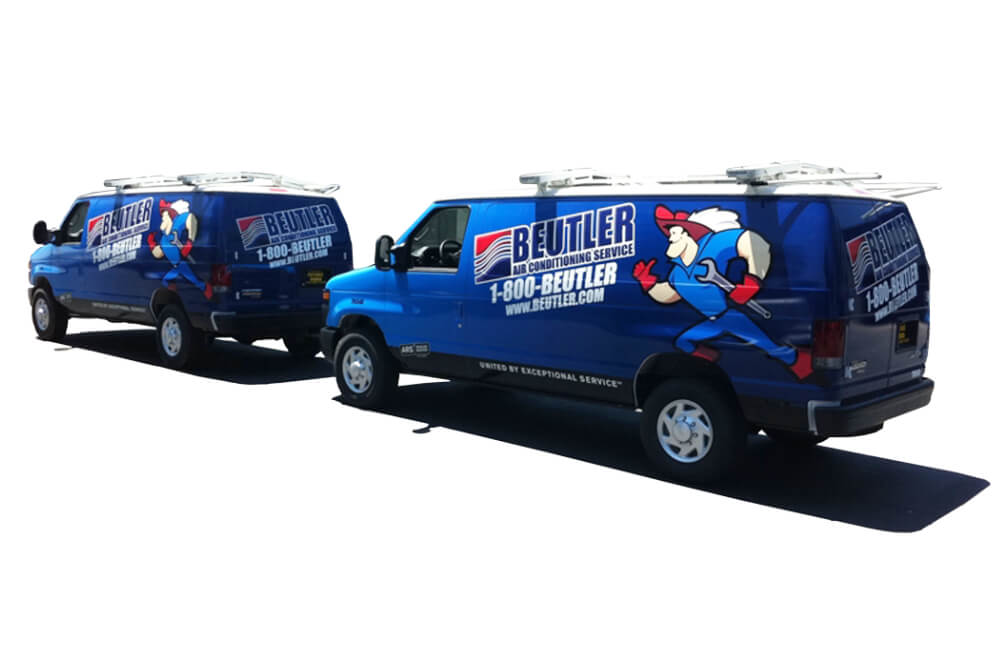 Van Wrap Warranty
Graphics AtoZ offers a 2-year Warranty total. Please read our company's warranty specifications. 2-year Warranty on installation and workmanship (peeling, cracking, or lifting). Damaged areas will be trimmed back, patched in, or replaced if needed. 1-year Film Warranty against excessive fading, discoloration, and blistering for on non – vertical surfaces (greater than  10 degrees from vertical). 2-year Film Warranty on vertical surfaces.
Cargo Van Graphic Wraps in Houston, Texas
Cargo Van Wrap service area covers Houston, Katy, Pearland, Richmond, TX, and surrounding communities. Our offices and all our van wraps are in Houston, TX 77063, but we will travel to you. An additional service charge may apply for offsite installation. Call us at (281) 783-9523 or fill our Custom Vehicle Graphics FREE Quote form for more information. Additional fees apply for offsite installations.