Wall Graphic Wraps are images printed on adhesive vinyl to adhere to a wall. Graphics AtoZ experts help you make the most out of your restaurant, office, school, gym, or children's playroom. With a Vinyl Wall Wrap, you add style to your business with interior decoration. We can print and install any size or shaped vinyl.
The vinyl wrap can be placed on smooth walls, brick walls, concrete walls, floors, and carpets. They are removable at any time without any professional help. Advertise your products or services, events, create signs to mark sections of a store, decorate a special space, or use the graphic wrap as a custom alternative to wallpaper.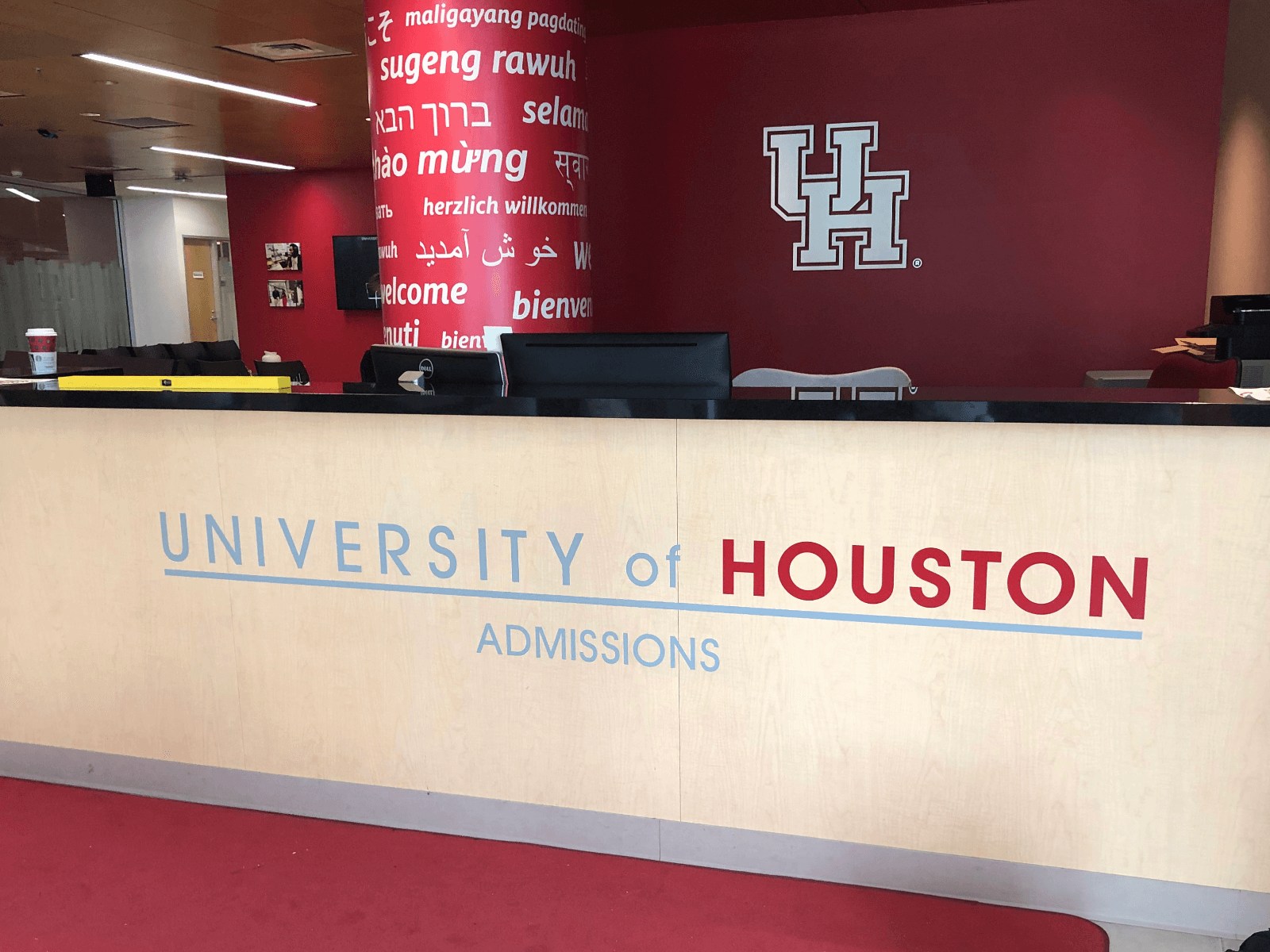 Choosing the right Wall Graphic Wrap Film
There is a wide variety of graphic vinyl films for vinyl wall wrap. Whether you want to decorate a conference room, retail floor, entertainment venues, or outdoor bulletin board, wall wrap graphics are the way to go. Graphics AtoZ experts use the most appropriate such as Rad Grafix, Photo-Tex, Alumni Graphics, HP Water Paper, and 3M IJ40 Vinyl Films. Below you will find the considerations for selecting graphic vinyl material best suited for your project.
The texture of the wall surface
Interior or Exterior Vinyl Wrap
Life expectancy
Budget
Before installation, all walls need to be primed because it helps with the adhesiveness of the film. If you recently painted the walls, make sure 30 days have passed to degas. Therefore, the material can start to bubble, lift, or peel. A Graphics AtoZ expert will make sure to assess the specifications for your project and determine the most suitable vinyl film for your wall vinyl wrap.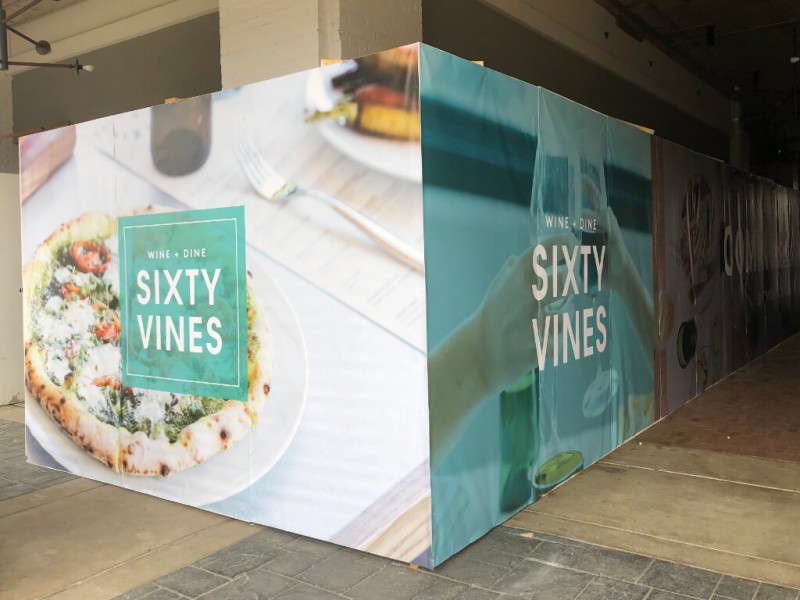 Temporary Exterior Wall Graphic Wrap
Graphics AtoZ experts use Rad Grafix Vinyl Film for temporary exterior wall graphics that have a life expectancy of 6 to 12 months. This Vinyl Film is ideal and best used for short-term installations such as trade show events, exhibits, upcoming store ads, special events and more.
Interior Wall Wraps
For Interior Vinyl Wrap applications, Graphics AtoZ experts use Photo-Tex, HP Water Paper, or 3M Vinyl Film depending on the project specifications. These films can be used for school wall wraps, elevator vinyl wraps, stairway wall murals, reception and lobby vinyl wall wraps, and much more.
All vinyl films are for interior wrap only and have their own unique features. Photo-Tex Vinyl Film has a life span of 6 to 8 years and is the best option for certain wall textures. HP Water Paper Vinyl Film has a 4-year life span and can be chosen for interior walls with a minimal texture and exposed to contact with people since it resists scratches. 3M Vinyl Film can be used only on flat surfaces and has a 7-year life span.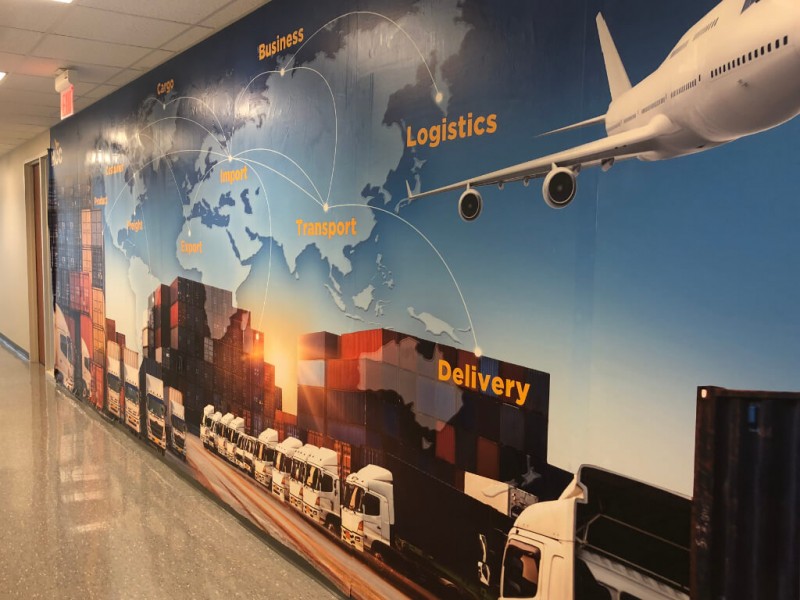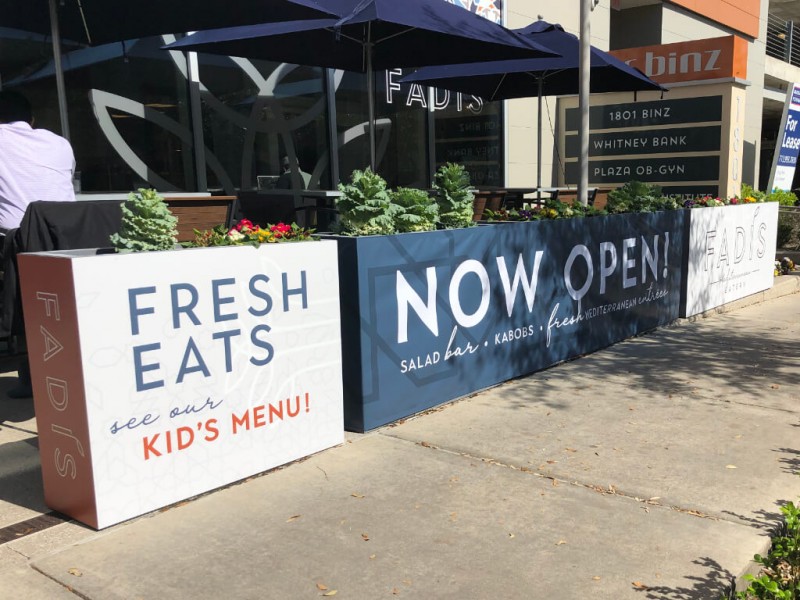 Exterior Wall Vinyl Wrap
For Exterior Wall Vinyl Wraps, Graphics AtoZ experts use Alumni Graphics or 3M IJ40. These vinyl films are usually used for wallscapes, building wraps, construction site wraps, bulletin board wraps, and much more. Both films resist Houston's sun, rain, wind, and snow. 3M IJ40 Outdoor Wraps have a 2-year life span and should only be used on smooth concrete. Alumni Graphics Outdoor Wraps also last up to 2 years but can be used on concrete or brick walls. These graphic vinyl films allow you to transform exterior walls to art featuring high-quality photos or custom-designed graphics or images.
Temporary Vinyl for Floor
Graphic AtoZ experts help make blank floors interesting with 3M Vinyl Film and Alumi Graphics. Floor vinyl wraps are usually used for logo displays, directional guides, ads, or photographs on hard floors or carpets. These can be found on school hallway floors, entertainment venues, retail pop-up floors, tradeshows, and much more. Hard floor wraps have a 2-year life expectancy and carpet floor wraps have a 6-month life expectancy, depends on how much people walk on it. Impress anyone who walks into your building, meeting room, or communal area with temporary vinyl wraps.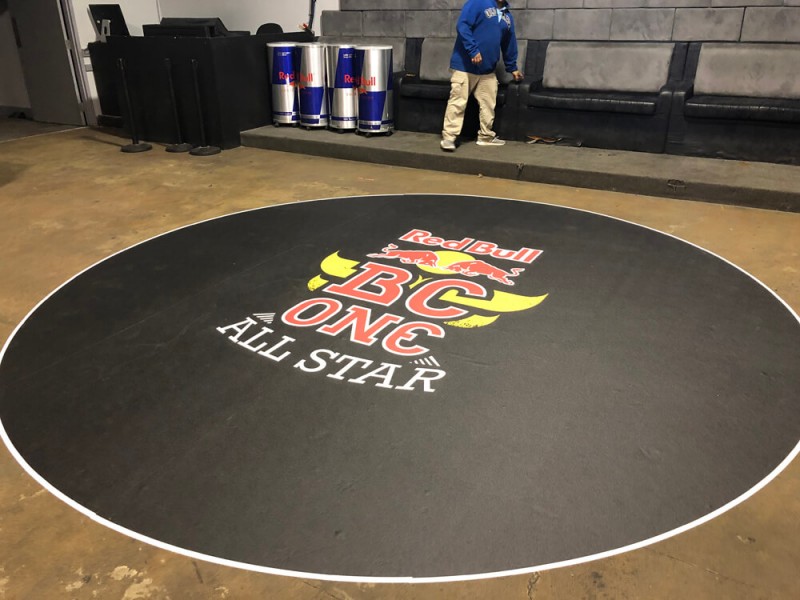 Service Area in Houston for Wall Wrap Graphics
Interested in a Wall Wrap Graphics for your business? Call us at (281) 783-9523 or fill out our Wall & Windows Graphics FREE Quote form for more information on vinyl wall wrap service areas in Houston! Our offices are located in Houston, TX 77063 but we cover almost all parts of Houston such as Katy, Pearland, Richmond, Bellaire, TX, and surrounding communities.