A Color Change Wrap is an effective option for totally changing your car appearance. Graphics AtoZ experts car wraps your vehicle with the color and material of your choice at affordable prices in the Houston, TX area. Whether your car needs to be repainted or you just want to change the appearance of your vehicle, color change wraps can help with that. Do you have a design you want to add to your car? No Problem, we can add that too. Transform your vehicle and give it a fresh new look protecting your car's original paint for up to 7 years with the 3M vinyl wrap.
At Graphics AtoZ, we use 3M 2080 Vinyl Film. We also offer a wide variety of colors and materials you can choose from. We work with small cars, subcompact cars, compact cars, convertibles, SUVs, minivans, and much more. Installation takes up to 2 days, depending on the size of the vehicle. Go to our benefits section and see why vehicle wraps are ideal for your car!
3M 2080 Color Palette
Graphics AtoZ uses 3M 2080 Vinyl Wrap Film for all car wraps. The vinyl wrap film provides protection to the original paint and temporary or permanent customization. Car Wraps allow you to have brand new car customization guaranteeing long term durability and UV protection. In addition, the wrap is chemical resistant and resistant to the Houston weather.
On the image to the right, you will find all the color options we offer for color change or personal customization. Choose your preferred color and material and let us know!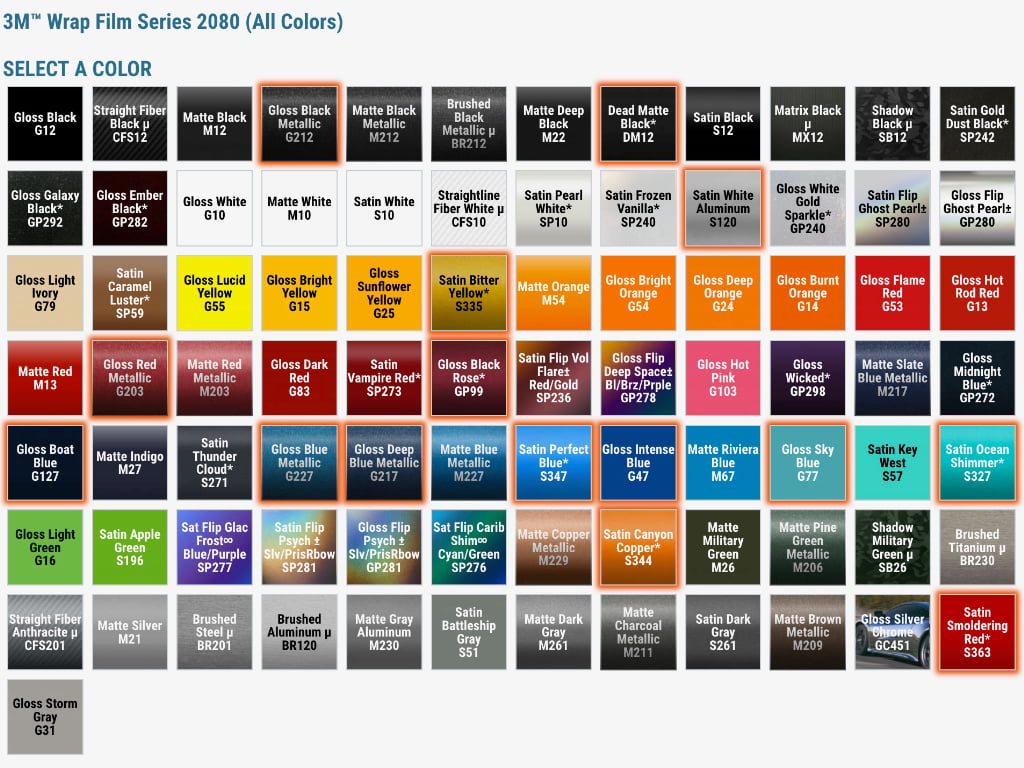 Color Change Wrap Price
We've created upfront pricing for many popular vehicles. If you don't see your car in our vehicle wrap section, please call us at (281) 783-9523. There are too many types of vehicles in the market to price them all. However, finding a similar size and style car will give you a good idea of the price. Graphics AtoZ offers Custom Vehicle Graphics FREE Quote form so that we can provide exact upfront pricing for your specific needs. Follow the links below to see some examples of car wrap color change cost.
Color Change Wrap Examples
As seen in the previous images, we can wrap and add design to any size vehicle. Our 3M vinyl wrap prices are based on the client's preferred material, coverage, and complexity of installation. Below are two examples of specific vehicles and their pre-quoted prices.
Ford F150 Wrap – Color Change Wrap
Jeep Wrangler Full Color Change Wrap
Click on the images of each specific vehicle to configure the vehicle wrap options.
Why choose to Color Change Wrap your car?
This is a shortlist of immediate benefits for wrapping your vehicle
Durable 3M Vinyl Wrap Material
Remove film as many times needed
Protects original paint
Can be a permanent or temporary customization
Last for up to 7 years
Long term removability
Wrapping your car is a great way to makeover your car and have a fresh new look! Contact us today for a custom vehicle wrap pricing quote or visit our pre-priced color change car wrap examples.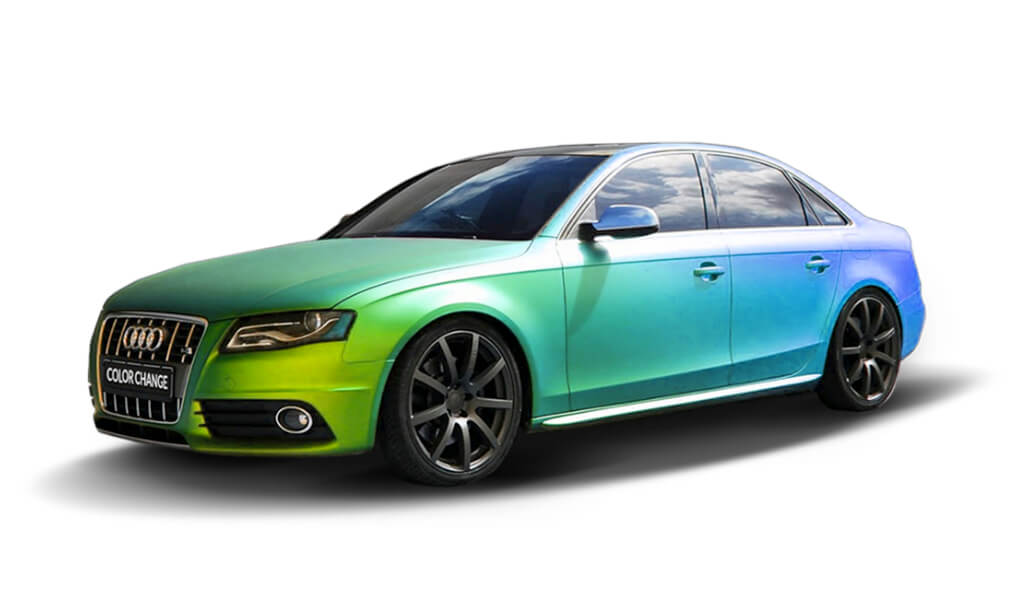 Color Change Wrap Warranty
Graphics AtoZ offers a 2-year Warranty total. Please read our company's warranty specifications. 2-year Warranty on installation and workmanship (peeling, cracking, or lifting). Damaged areas will be trimmed back, patched in, or replaced if needed. 1-year Film Warranty against excessive fading, discoloration, and blistering for on non – vertical surfaces (greater than  10 degrees from vertical). 2-year Film Warranty on vertical surfaces.
Service Area for Color Change 3M Vinyl Wrap in Houston
All offsite color change wraps are only in Houston, Katy, Pearland, Richmond, TX, and surrounding communities. Additional fees apply for offsite installations. Our main office and warehouse are located in Houston, TX 77063. Call us at (281) 783-9523 or fill out our Custom Vehicle Graphics FREE Quote form to learn about our office location and 3M vinyl wrap service area in Houston, TX.